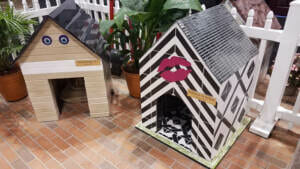 Royal Thin Brick's Berkeley Blend was used on the floor throughout the TCNA Art Tile Courtyard at Coverings 2017 in  Orlando, Florida.
Each year Art Tile manufacturers come together to create one-of-a-kind tiled art pieces that are displayed in the courtyard. At the shows end the remarkable creations are donated to local charities.
This year the participants were charged with creating fanciful dog houses that, after the show, were donated to the Pet Alliance of Orlando.
What better way to display these unique dog houses than on rugged thin brick paving brick donated by Royal Thin Brick. The thin bricks were installed in a brick pattern over a backer board and then grouted – just like ceramic tile. As the picture shows, the results were doggone terrific.