Royal Thin Brick: The Sustainable Choice
Inherently, bricks are one of the most environmentally friendly materials used in commercial or residential building, and Royal Thin Brick has long operated with a sense of stewardship for the environment. Specifying Royal Thin Brick in place of full size-brick can be a less costly way to achieve the look and presence of full-sized bricks – it also means less impact on the environment as less fuel is required to manufacture and transport Royal Thin Brick.
Royal Thin Brick strives to produce environmentally sustainable products and remain mindful of their environmental impact.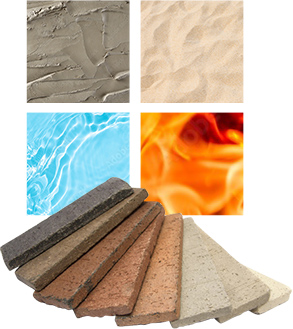 All of our products and manufacturing processes are designed to use the lowest resources and energy of any thin brick manufacturer. We use the most energy-efficient production equipment in the industry.

We manufacture our thin brick – thin. Many brick companies cut the face off a full brick to make a thin brick – discarding the balance of the brick. This is the least efficient process from both an energy and materials viewpoint.

Our products are engineered for durability, longevity and sustainability, lasting the life of the building and beyond.

Our products are listed in the "mindful Materials" database.

Over 90% of the raw materials we use are mined within 50 miles of our facility.

Over 3,000 tons of waste clay is recycled back into production annually.

The heat from our kilns is also used as a heat source for our dryers.

Less fuel is required to transport each unit, vs. full-faced bricks.

Royal can be reused or used as fill at the end of its life.

There are no glazes or coatings added to the surface of Royal Thin Brick.
Royal Thin Bricks: Locally Mined and Made
Royal Thin Bricks are manufactured at the Ironrock Company headquarters in Canton, Ohio. Nearly all of the raw materials that go into the bricks are mined within a 50 mile radius of where these materials are mixed, cut, and fired.
Since Ironrock's inception more than 150 years ago, the company has acted as a steward of the land that provides its rich natural resources. A local and family-owned company, Ironrock prides itself on its initiatives to recycle, reduce the amount of waste it produces, and incorporate resource- and energy-conserving practices into its operations.
Royal Thin Brick has a Material Ingredient Disclosure verified by WAP Sustainability Consulting.
Manufacturing Highlights
Finished products include unfired waste material

Fired scrap is reground and used in the manufacture of new products

The remaining fired scrap is inert and is used as fill and for road beds

Royal Thin Brick products contain about 23% pre-consumer recycled material

The manufacturing facility uses the most energy efficient equipment available

Royal is manufactured thin for less waste in manufacturing