Thin Brick Colors for Every Vision
From classic reds to on-trend grays, Royal Thin Brick has the materials for every project's design style and every client's unique taste – for a result that truly fulfills their vision. Because of our natural processes, colors are subject to change from run to run. Variables that impact color include the area from which the clay was mined, the time of year, drying humidity, and how long the material is cured. Within a single run the colors stay fairly consistent but with variances common to naturally produced products. Please note that you should order current samples, especially if you have not seen samples recently. This will help ensure the colors are exactly what you have specified.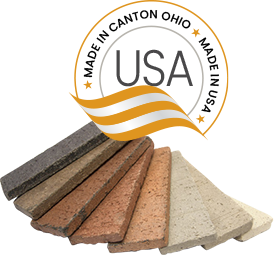 Customize a Color Blend With Royal Thin Brick
Blending bricks adds the extra visual dimension and texture some projects call for. Clients or designers can choose one of Royal Thin Brick's thoughtfully combined blends, or to truly turn their vision into reality, create their own unique combination of up to four colors*.
*Contact Customer Service for availability at 1.888.325.3945