Clay, sand, water, air, and fire. These are the elements of brick. Nature gives genuine brick a quality that other building materials cannot match. Brick speaks of stability. It crosses cultures. It can convey warmth or coolness. It lends itself to every design style, from the traditional to the ultra-modern. There is simply no substitute for the enduring nature of authentic brick.
Unlike brick substitutes, such as cast, pressed, or molded concrete, Royal Thin Brick manufactures real bricks – thin. Royal Thin Brick is a true brick, made from mined materials, extruded, and kiln-fired. In other words: Royal Thin Brick delivers the exceptional looks, authenticity, and performance of any high-quality brick, but with a narrower, 5/8″ profile. Because Royal Thin Brick does not require a foundation like full brick, it can be used almost anywhere you desire.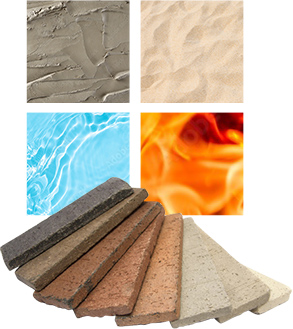 Royal Thin Brick Uses Local Materials
Northeast Ohio and Western Pennsylvania are rich in the natural resources used in the craft of brickmaking. This is why the region has been a prolific producer of high-quality bricks since the 19th century. Royal Thin Brick is part of this long tradition, sourcing the clay and shale used in its bricks from local mines.
The Benefits of Royal Thin Brick
Royal Thin Brick melds high-quality materials with time-honored brickmaking techniques.
Fired for strength

Each Royal Thin Brick is hard-fired, the method for creating bricks that stand up to the elements and stand the test of time. Hard-fired bricks are heavier, stronger, and more durable than soft-fired bricks or common brick alternatives. In addition to their high tensile strength, Royal Thin Bricks are also vitreous, meaning they resist stains and moisture. This means architects and designers can recommend Royal Thin Brick to clients with confidence.

No two are alike

Specifying Royal Thin Brick gives your clients the hand-crafted, high-end appearance they are looking for in their business or home designs. This comes from Royal Thin Brick's processes, which include wire-cutting of the brick's surface and drum tumbling. Desirable color variation from brick to brick is achieved through the old-world technique of flashing, a process that starves the kiln of oxygen, creating a subtle range of shades.

Ease of installation

Royal Thin Brick is real brick that installs like tile, making it more versatile than standard brick. Thin Brick can be used in new construction or remodeling, and its lighter bulk means Royal Thin Brick can be installed on any properly prepared substrate without the need for an additional foundation required for a full brick installation. Royal Thin Bricks are also ribbed on the back, so they bond tightly to the setting material. This comparative ease of installation also means Royal Thin Brick can be installed and grouted without a mason, keeping projects on schedule and on budget. Indoors or out, Royal Thin Brick can quickly transform walls, floors, fireplaces and more.
The Architect's Choice
What makes Royal Thin Brick the choice among architects and designers? First is its flexibility. Royal Thin Brick can be utilized indoors or out, on supported or unsupported walls, in new construction or renovations. Your and your client's imaginations are the only limits. Second: Our supply chain is sound, so you can specify Royal Thin Brick without fear of construction delays. Because it is real brick, not concrete or a veneer, Royal Thin Brick is vitreous and stands up to all types of weather. Finally, Royal Thin Brick is an environmentally responsible choice. Produced with virtually no waste and with less energy than full-faced bricks, Royal Thin Brick meets specific requirements that can make your project eligible for LEED 4.1 certification.